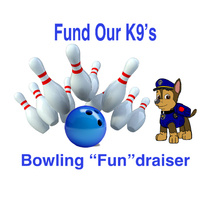 Fund Our K-9s Bowling "Fun"draiser
Fund Our K9's Bowling "Fun"draiser
BRING THE WHOLE FAMILY!!
Proceeds benefiting the LASD Special Enforcement Bureau (SWAT) K-9 Detail for the support and care of our K-9 Officers.
WHEN: Saturday, March 9th, 2019
TIME: 1:00pm
WHERE: Santa Clarita Lanes
21615 Soledad Canyon Rd
Santa Clarita, CA 91350
COST: $20 per person (Incl. 3 games, shoe rental, pizza, soft drink)
Special guests
Food
Drinks
Raffles
Prizes
Teams of four!
Singles, Doubles, no problem we've got you covered!
*Must be 10 yrs or older to bowl
Saturday, March 9 at 1:00pm to 4:30pm
Santa Clarita Lanes 21615 Soledad Canyon Rd, Santa Clarita