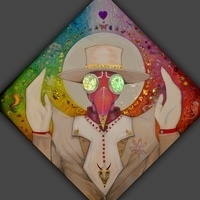 Toxikologie Art Exhibit Reception
The City of Santa Clarita invites the community to a reception for "Toxikologie," the latest art exhibit at The MAIN. Guests will have the opportunity to view the artwork, enjoy light refreshments and meet the artist.
Driven by an equal love for both the arts and sciences, Cutshall's inspiration for "Toxikologie" arises from religious symbolism and medieval plague-era imagery, juxtaposed with the childlike, colorful world of Harajuku Decora street fashion in Japan. For her series, Cutshall compares the manner in which professional toxicologists study chemical effects on human health – whether beneficial, harmful or benign – to the manner in which aesthetic and emotional toxicity or innocence is interpreted through cultural images.
The exhibit will be on display from June 19 through July 13, 2018 and is available for viewing during all events at The MAIN, as well as Tuesday through Friday from 1:00 p.m. to 5:00 p.m.
Thursday, June 21, 2018 at 7:00pm to 10:00pm
The MAIN
24266 Main Street., Newhall, CA 91321
Website

Event Type

Age Range

Calendar

Community Location