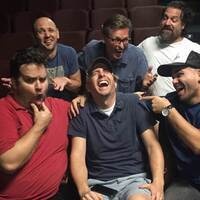 "The Society Improv Show"
If you come to "The Society Improv Show," you will laugh. If you don't, there's no one who can help you.
The show includes improvised music, comedy, scenes, the works. If you've seen "Whose Line is it Anyway," you have an idea of what kind of hilarious, energetic comedy that team improv can create.
The Society are 12 time iO West Cage Match Champions!
This is a clean show and is appropriate for all ages.
Saturday, September 8, 2018 at 8:00pm to 9:30pm
The MAIN
24266 Main Street., Newhall, CA 91321
Website

Event Type

Age Range

Calendar

Community Location