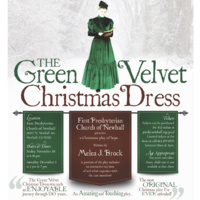 The Green Velvet Christmas Drss
"The most original Christmas play I've ever attended! An Amazing and Touching play." The First Presbyterian Church of Newhall will be performing "The Green Velvet Christmas Dress." This original play, written by Melea J. Brock, chronicles the 130 year journey of a very special dress. The play delivers a most amazing and touching story of hope. A portion of the play includes an interactive teatime of red velvet cupcakes with the cast members! Save the dates - performances are Friday, November 30 at 6:30 pm and Saturday, December 1 at 2 pm and 7pm.

All are welcome, the play is age appropriate for 10 years or older. The church is near the DMV at 24317 N. Newhall Ave., Newhall, 91321. Tickets are $12 and can be purchased securely online at: www.presby-newhall.org/GVCD
All proceeds will go to support Stephen Ministry, a one-to-one lay caring ministry.
Saturday, December 1, 2018 at 7:00pm to 9:00pm
First Presbyterian Church of Newhall 24317 N. Newhall Ave., Newhall, 91321
Contact Information

Website

Event Type

Age Range

Community Location

Season