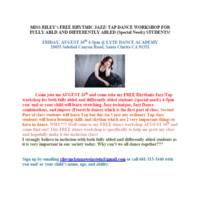 Free Inclusion Rhythmic Jazz Tap Dance Workshop
COME DANCE & HAVE A BLAST in this FREE Rhythmic Jazz/TAP workshop!
4:00-5:00 p.m., at the L.Y.T.E Dance Studio of Santa Clarita.

Don't miss it! This workshop is for both fully-abled and differently-abled students, who will learn both styles Jazz such as stretching, Jazz Dance technique, movement, Jazz dance routines, and improv dance (Freestyle).
Genre classes teache rhythm and listening skills. You might be able to count, but can you count music? You might be able to dance, but do you have an ear for rhythm and the patience to listen to the beat in a song or music? This kind of skill-building can strengthen weaknesses and help the brain communicate with both sides of the body.
Please RSVP at rileymckennaweinstein@gmail.com with your/your child's name, age, and ability. We look forward to working with you and/or your child!
Friday, August 24, 2018 at 4:00pm
LYTE Dance Academy, Little room 20655 Soledad Canyon Rd Santa Clarita, 91351
Contact Information

Event Type

Age Range

Community Location

Season