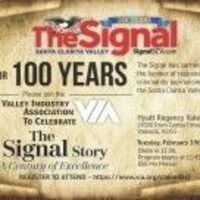 February VIA Luncheon
THE SIGNAL STORY
A Century of Excellence
On February 7, 1919, the Mighty Signal's first paper published. "It was the end of World War I and life, and invention, were erupting with a jubilant fierceness," writes Time Ranger John Boston.
For 100 years, The Signal has carried the banner of responsible community journalism in the Santa Clarita Valley.
Join VIA as it celebrates The Signal newspaper for
"The Signal Story – A Century of Excellence"
at the VIA Monthly Luncheon on
Tuesday, February 19, 2019 at 11:45 a.m.
at the Hyatt Regency Valencia.
Welcome Signal notables from the past as they join Signal Owner and Publisher Richard Budman on stage for a panel discussion of the Signal's rich history and view the first public showing of an exclusive video presentation produced by SCVTV.
Tuesday, February 19 at 11:45am to 1:30pm
Hyatt Regency Valencia
24500 Town Center Drive, Santa Clarita, CA
Contact Information

Kathy Norris 661-294-8088

Website

Event Type

Calendar