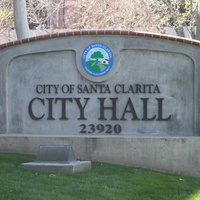 City Council Meetings
For more information, contact the City Clerk's office at (661) 255-4391.
The five-member Santa Clarita City Council holds their regular meetings on the second and fourth Tuesday of every month (except they do not meet during summer hiatus which is the second meeting in July and the first meeting in August. In addition, there is no Council meeting Christmas week) in the City Council Chambers beginning at 6:00 p.m.
Council Meetings are also broadcast live on SCV TV channel 20 and on the City's Website.
Members of the public may address the Council on the topic of their choice under Public Participation. Speaker cards must be completed and turned in before Public Participation begins and there is a three minute time limit per person.
City Council Meeting Agendas are posted on the City's website on the Thursday before a Council Meeting. Results will be available as soon as possible after a Council Meeting. Sign up for eNotify if you'd like to be informed via e-mail when agendas and minutes are posted on the City's Website.
Tuesday, December 11, 2018 at 6:00pm
Santa Clarita City Hall, City Council Chambers
23920 Valencia Blvd. Santa Clarita, CA 91355
Contact Information

City Clerk's office: (661) 255-4391

Event Type